I'm looking forward to seeing the pics of your hitch setup.

I've got an original Fulton 06 hitch on my trailer but it is fussy to use- lots of fiddling to get it tight on the ball and I have to use a wrench to hold the nut while it is tightened or loosened which is a pain. Once it's on it's fine. I'm thinking of switching it out for ease of use and to save the original hitch from wear and tear since it can't be replaced.

I also would like a longer tongue from time to time. I agree it is hard to back up these trailers with a truck since you can't see it until it's too late. You really need a spotter. I have learned that very small steering corrections go a long way.
Anyway, my thinking is that I can make a receiver tube to fit over the drawbar casting which has a section that sticks out from the drawbars. The receiver tube would bolt to the casting and the drawbars just like the Fulton coupler does. This would allow a longer tongue bar to be added when I want it. I've seen one done like that (posted a pic below).
Here's a pic of my current hitch coupler before my recent renovation. I didn't do anything to the coupler except sandblast and paint it:
Edit: Here's the picture of the setup I am thinking of copying:

http://https://www.thecj2apage.com/forums/1946-bantam-t3c-9466_topic11548_post94491.html?KW=fulton+hitch+modifications#94491" rel="nofollow - http://https://www.thecj2apage.com/forums/1946-bantam-t3c-9466_topic11548_post94491.html?KW=fulton+hitch+modifications#94491

Edit: Here's another one I found: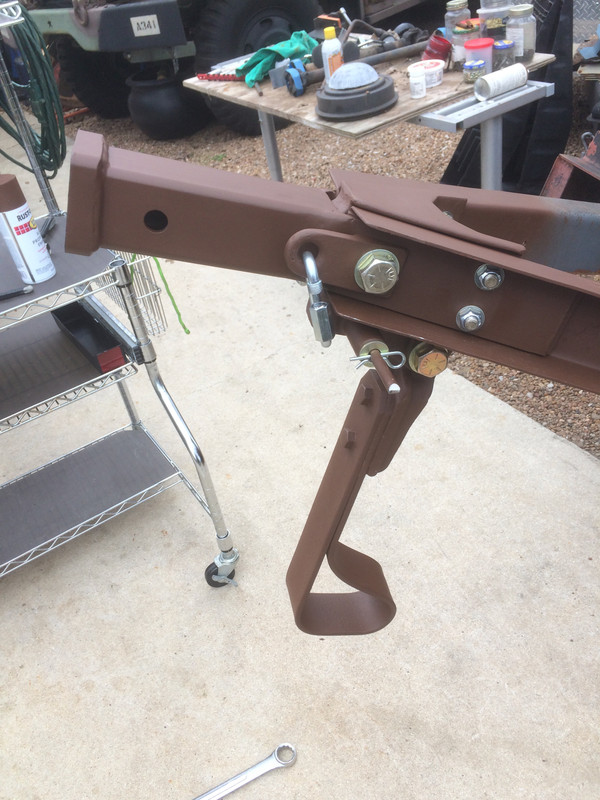 http://www.willysmjeeps.com/v2/modules.php?name=Forums&file=viewtopic&t=11710" rel="nofollow - http://www.willysmjeeps.com/v2/modules.php?name=Forums&file=viewtopic&t=11710